Best Clear Ice Maker for 2023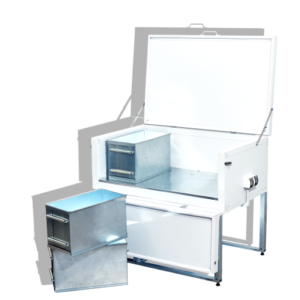 If you're running a bar or a restaurant, you know the industry's best-kept secret. What makes the drink feel like a high-end luxury experience? Premium-quality ice!
It's 2023, and professional ice equipment allows ice manufacturing in any shape, color, and quantity to elevate HoReCa branding and service quality. Each bar wants to own the best craft ice maker to deliver this WOW effect to its customers. Many of us saw the video pop up on social media platforms with exclusive cocktails, drinks, and mocktails served with unique-shaped ice. Such marketing drives customers to visit the place to enjoy premium drinks.
So what is the best clear ice maker that will help your business amaze the public and clients? Let's dive deep and compare equipment from BF Technology to find a top-notch ice machine for your bar. 
Best Budget 
Are you looking to save big without sacrificing quality? Check the unbeatable budget-friendly clear ice block maker from BFTech! 
P30 Ice Maker is the top-recommended under-countertop model for small businesses or private use, offering a daily ice production capacity of up to 30kg P30 Ice Maker comes compact, easy-to-maintain, simple never-dying design with an attractive price tag. However, affordable cost doesn't get in the way of a professional P30 model producing premium-quality clear ice for home use.
If you're looking for an ice machine for the establishment, don't get put off by P30 compact size. We recommend that model for small cocktail& drinks places or bars with small occupancy. Choose quality over quantity!
Finest Ice Makers For Fast Ice 
The main pain point of mass ice production for a restaurant or a bar is matching the demand. The best professional ice maker should work fast, generating enough ice to keep up with the turnover and still deliver premium-class ice manufacturing. Here is our top-two of BFTech ice makers with high capacity and super-sonic speed: 
The P150 model stands out with impressive daily ice production capacity, generating up to 150kg per day. It's an excellent solution for restaurants and bars that require a lot of ice in a short amount of time. Featuring a powerful compressor and rapid ice-making cycle, P150 produces clear, premium-quality ice cubes. 

If your cocktail bar or club has extremely high ice production needs due to the peak occupancy, look no further than P300 Ice Maker. This model has a whooping daily ice production, reaching up to 300kg per day. P300 features an advanced cooling system and enhances the ice-generating cycle, producing high-quality ice cubes only in a couple of minutes. 
Don't settle for less! With BFTech solution for professional ice production, you can ensure you have enough crystal-clear sky on your hands to serve delicious and desirable drinks even when your establishment is packed. 
Ice Maker With The Best Splurge
Based on the client's reviews and our experience, the P300 Ice Maker is the best clear ice maker for a splurge due to its exceptional performance. This model is best fitted for large commercial establishments like high-end bars, dance clubs, and busy restaurants. 
The P300 Ice Maker leverages the ultimate cooling system and high ice production capability, delivering crystal-clear and perfectly shaped ice cubes. Such a model brings efficiency to any establishment and easily fits into aesthetics and interior design due to seeking stainless steel design and intuitive controls. 
Investing in the P300 is a wise solution if your business requires reliability and premium performance, generating top-tier ice in just a matter of minutes, so if you are looking for solutions to impress customers and keep up with your high turnovers. 
Best Self-cleaning Equipment 
Do you prioritize hygiene and cleanliness? At BFTech, we do too! Our P150 and P300 Ice Makers feature an advanced self-cleaning system, ensuring the ice produced is safe for consumption and the ice machine can be kept in top condition with minimal effort. 
Both models have a self-cleaning system that uses a combination of water and disinfectants to deep clean the ice maker. P150 and P300 Ice Makers have intuitive control with easy-to-use functionality, providing hassle-free maintenance and peace of mind. 
If you're looking for a top-notch ice maker that complies with your high-standard hygiene requirements, select BFTech solutions such as P150 and P300. 
What Ice Maker is The Most Compact? 
Some establishments don't need to generate 300kg of ice per shift. Instead, they need an ice machine that packs a powerful punch while being compact enough to fit in the limited bar space. The solution is BFTech's P30 Ice Maker! 
The P30 model is the best clear ice maker for small commercial businesses, like cafes, food trucks, cozy speakeasies, etc. Its dimensions make it easy to move and transport, giving you flexibility in the barkeeping process.
At BFTech, we understand the pain of producing high-quality ice while you have limited space on the other side of the bar. We deliver a solution that won't take up valuable space. Still, we have powerful capabilities to generate enough premium quality ice to ensure you never run out of it when you need it the most. Why compromise on performance or space when you can have both with P30 Ice Maker? 
Best For Premium Ice
BFTech's Diamond and Sphere Ice Pressers are cut above the rest! So if you're looking for how to elevate your bar routine with the best premium ice maker, those are out-of-this-world options for you. These models are the essence of luxury ice prediction, designed to reinvent any commercial bar with their sleek design and superior ice quality. 
The Diamond Ice Pressers produces crystal-clear ice in the shape of a dazzling diamond, making any drink a showstopper. We use advanced technology, ensuring that ice comes out in premium quality, with no impurities or air bubbles. 
The Sphere Ice Press delivers flawless ice spheres. Such exclusive ice is the best compliment for a premium cocktail or simply whiskey on rocks. 
Diamond and Sphere Ice Pressers is a tool to provide a unique luxurious experience for your customers. Such models are sure to attract new customers and give you a better rating among other establishments. By choosing Diamond or Sphere Ice Pressers, you get high-quality products, innovative marketing strategies, and creating superb customer experience. Isn't it the key to success? 
The Best Ice Maker Overall 
So what model can we crown the ultimate best craft ice maker? The BFTech's choice is the P300 Ice maker due to its exceptional performance, impressive capabilities, and top-tier quality. 
The P300 model is capable of serving large-scale commercial projects, producing crystals as glass ice cubes. It's more than just impressive technical characteristics. The minimalist high-end design will fit in any high-end interior. And the user-friendly controls guarantee the P300 operates as easily as the breeze. 
If investing in the greatest ice maker in the market with advanced technology, then only in the P300 model from BFTech. Prioritize both: quality and style! 
What To Look For In A Clear Ice Maker?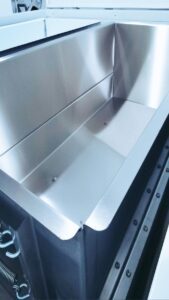 When it comes to choosing the best craft ice maker for the HoReCa establishments, there are a few key factors to consider. Let's take a dive and see what should be on your top-three list when scouting the brands for the best-suited ice machine. 
Speed 
The vital question you should be asking is how quickly can the ice maker produce the amount you require to cover the demand? You should search for a model with a fast ice-generating cycle and advanced cooling technology. By choosing the quickest option on the market, you can ensure your barkeep won't run out of ice cubes during peak hours. 
Capacity
Another critical factor for the best clear ice maker is capacity. Think exactly how much ice your establishment uses per shift and what amount you need to produce to guarantee a smooth workday. Choose an ice maker with a suitable capacity for your business scale and regular turnover. BFTech offers a range of ice makers with various capacities so everyone can find the best-suited solution for their needs.
Size 
The last thing on the essential factor rundown is size. Usually, it's not the factor that will affect performance or produce quality. Yet, the dimensions are necessary to arrange the bar space accordingly to give the bartenders flexibility and accessibility to fresh ice. Take the measures before starting shopping for an ice maker to find a model that won't take up too much space.
An extra piece of advice: Choose the ice maker from a professional brand with a great reputation that offers durable and reliable ice equipment. After all, an ice machine is a costly investment and affects the quality of products you serve in the establishment. Look for a model from premium-quality materials, like stainless steel, to ensure longevity and ease of maintenance.
With BFTech's extensive range of professional commercial ice makers and ice pressers, you can easily find an excellent fit for any unique requirements. 
Best Clear Ice Block Maker for 2023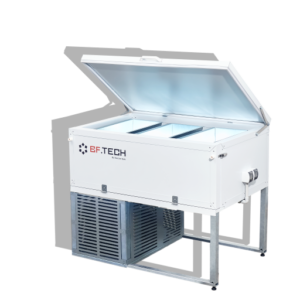 Let's dive deep and see what of the top commercial ice machines we can determine is the ultimate best clear ice maker.  We will focus on the absolute BFTech's best-seller models: the P150, P300, and P30. Let's analyze the following factors: 
Capacity: The P150 model has a daily making ice capacity of 150kg, while the P300 – 300 kg. The P30 Ice Maker has the lowest capacity of 30kg. Therefore, if you're working in a small establishment with low turnover or occupancy, we suggest going for the P30. Otherwise, for the large-scale bars, P300 would be the best choice. 

Size and Weight: If you have limited space, the P30 measures 355 x 426 x 598 and weighs 22kg will be a perfect choice. The P150 model measures 680 x 580 x 11000 mm and weighs 98 kg, while the P300 weighs 173 kg and has larger dimensions. Those two models will suit the bars with plenty of space under the countertop or in a separate room. 

Production time: The P150 and P300 models require 24 hours to procure ice cubes. The compact P30 ice maker needs only 12 hours to get the job done, yet it has a smaller capacity. 

Ease of use: All three models leverage an intuitive control panel, making it easy to operate. With BFTech's ice makers, you can adjust st thickness and size of the ice cubes that fit your drink presentation and aesthetic, 

Ice Quality:  BFTech drivers ice-producing equipment with high-quality clear block ice. Whether you choose P150, P300, or P30 models, you'll get premium quality ice to complement cold beverages and elevate cocktail presentations. 

Price: Due to the capabilities differences, P30 ice makers will be the cheapest option. However, even if the P300 is the most expensive in the catalog, it's still a cost-effective investment, considering the benefits you get. 
Final thoughts: Choosing the best clear ice maker is much easier than you think after listing all the vital requirements. Remember that ice goes directly to the consumer's glass. Thus, you should invest in premium-quality ice, the same as you invest in top-class beverages. With the world-recognized quality of BFThech equipment, you can elevate your bar presentation and service and serve only crystal-clear luxurious ice.
FAQs about best craft ice maker 
How does the clear ice maker work? 
An ice-producing process is quite simple. A clear ice maker uses a special freezing process that generates crystal-like ice cubes without cloudiness, involving circulating water over an icy plate. As the water leaks, it freezes layer by layer, pushing air bubbles to the bottom. 
What are the cleaning tips for an ice maker?
Turn off the ice maker and unplug it from the power source.

Remove and dispose of all the ice. 

Using a soft cloth and warm soapy water, clean the interior and exterior surfaces. 

Rinse with clean water. 

Sanitize the ice maker's components like the ice bin, scoop, and water reservoir. 

Rinse again and dry it; 

Reassemble the ice maker to turn it on. 
Following these tips will ensure your ice makers state hygienic and produce premium-quality ice. Depending on the usage, we recommend cleaning the ice maker every 3-6 months. 
How to repair the ice maker?
The first step is identifying the problem, such as a clogged water filter or broken component. Check the manufacturer manual for troubleshooting steps to fix the issue. However, the best strategy would be to contact professional maintenance for repair services to guarantee qualified help. 
Do you have a question or do you need a consultation?
Leave your phone number and we'll get back to you.